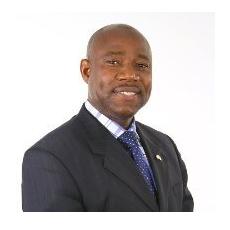 Born in Benin City, Nigeria , Eric earned a college degree in construction and worked in that industry for 16 years – eight years in Nigeria and seven in Europe.  He came to the U.S. in 2000 and is now an American citizen.  Eric joined the Wells Fargo team in 2001 as a Teller and now serves as VP Diversity Consultant after a long series of promotions including positions as Personal Banker and Community Development Officer.
Eric's list of awards and recognitions include the National Wells Fargo Sales & Service Medal (2005), Wells Fargo Diversity Champion Award (2008), and the Heroes of the Heartland International Impact Award from the American Red Cross Central Iowa Chapter (2008). In 2009, Eric became a U.S. Business Fellow Delegate to the Middle East for the United Arab Emirates and Egypt. He has been a board member for: the Iowa Council for International Understanding; Cornerstone of Hope, Inc.; Alianza (Latino Business Chambers of Iowa); and Lutheran Services Iowa – Refugee Advisory Committee.
Eric also founded an orphanage in his home town of Benin City to further his personal commitment to serving others using his time and talents. He is fluent in English, Spanish, Russian and five African dialects.